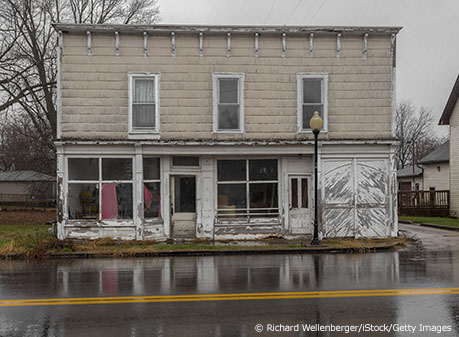 For low- and moderate-income (LMI) communities across the Fed's Eighth District, vacant and abandoned houses remain the greatest challenge to housing and neighborhood development, according to the 2019 Community Development Outlook Survey.
The survey—conducted by the Federal Reserve Bank of St. Louis—asked those involved in community development about the trends affecting the region's LMI communities. (It's important to note that survey responses were collected between Oct. 29 and Dec. 9, or before COVID-19 became widespread.)
Biggest Challenges to Housing and Neighborhood Development
In the survey, 27.2% of respondents described vacant and abandoned properties as the greatest challenge to housing and neighborhood development. That is slightly less than the 31.4% who identified this as the top challenge in 2017.
Another 20.3% saw neighborhood blight as the top challenge, while 17.1% of those surveyed said out-of-state investor-owned properties were the leading challenge.
Only 15.8% identified crime as the biggest challenge to housing and neighborhood development. This is different from the 2017 survey, when 29% saw crime as the top problem.
Access to Housing
The 2019 survey asked if there was a shortage of affordable housing: 84.9% of respondents said such a shortage existed in the LMI communities that they serve.
In addition, the survey asked about the most significant barrier to homeownership for LMI households. Respondents cited these top barriers:
Creditworthiness (39.0% of respondents)
Substandard housing stock in affordable price range (23.9%)
Lack of sufficient income (23.3%)
Down payment (10.1%)
Notes and References
Headquartered in St. Louis, the Eighth Federal Reserve District includes all of Arkansas and parts of Illinois, Indiana, Kentucky, Mississippi, Missouri and Tennessee.
Additional Resources